Description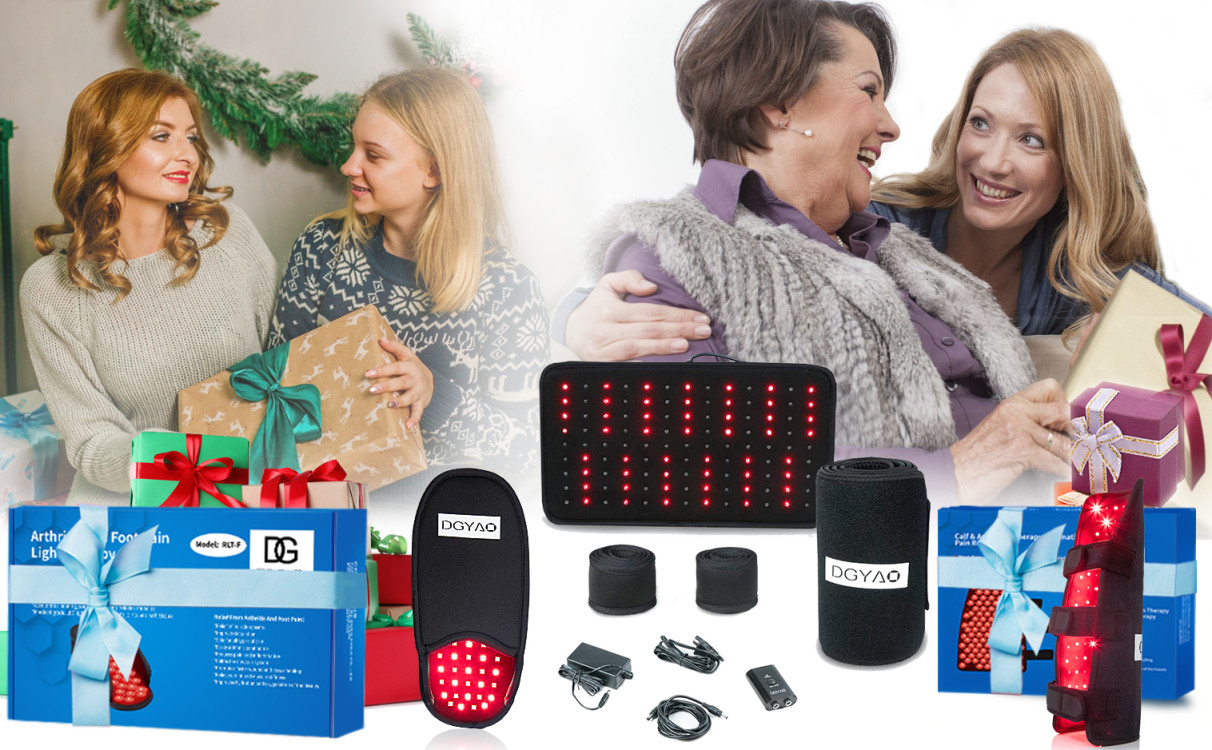 The Most Flexible Light Therapy Device—Used by Professionals, Athletes, Physicians.
The dgyao® flexible system can be used anywhere on the body. Experience 117 medical-grade infrared and red light for focused treatment in the comfort of your own home or office without limiting your hands! Safely stimulate blood circulation, relax muscles, accelerate healing, and relieve pain.
The dgyao® flexible pad comes with a compression wrap and 2 velcro straps. You can wrap most of parts of your body which need pain relief.
The combination of red and infrared light increase blood circulation by THERMAL EFFECT and provides relief pain caused by aseptic inflammation, such as strain of lumbar muscles, strain of lumbar muscles, sciatica, tendonitis, bursitis, rheumatoid arthritis,etc or sprain & swell recovery period, they can all be alleviated with infrared physiotherapy equipment.
117 pcs medical LED lights. Visible 52 red light (660 nm ), 65 invisible infrared lights(880 nm)
Large 12" x 6" treatment area and penetrate deep into tissue
Great for sport injuries, arthritis, sciatica, neuropathy, sprains, Carpal Tunnel Syndrome, bursitis, neck and shoulder stiffness, sore back, ankle swelling, and tissue repair
Safe, natural solution for all skin tyes
2 x velcro straps(1 long & 1 short)
1 x Adjustable lower back lumbar wrap
15 Ft Power Cord (Connector & Adapter)
Auto shut-off timer(20 minutes)
How to use:
Place on body and secure straps. Plug into a electrical outlet. Press on/off switch to activate device. You can only see the red LED's,  the others are in the Infrared light spectrum and can't be seen with the human eye.
Treatment time is 20 minutes and can be used multiple times per day. Please pay attention to rest for 15-30 minutes between two treatment, drink water to replenish water, make the body dissipate heat, and then proceed to the next treatment.
When cleaning or collecting, please cool it for 15 minutes.
Tips:
Red Light (Wavelength: 660NM): Red Light Can Promote The Growth Of Skin Collagen, Deep Skin Beauty Care, Eliminate Wrinkles, Shrink Pores, Promote The Regeneration Of Collagen And Elastin And Also Promote Skin Oxygen Breathing Helps Blood Circulation. Therefore, It Accelerates Cell Metabolism And Blood Circulation Of Capillaries, Diminishes Freckles, Redness, Accelerates The Repair Of Problematic Skin And Repairs After Sunburn, And Has An Effect That Can Not Be Ignored Against Aging.
Far Infrared (Wavelength: 880 NM): Accelerates The Healing Of The Wound Itself, Slowing Down Skin Aging And Wrinkles. Because The Far Infrared Of 880NM Can Penetrate The Skin Layer 8-11MM, It Can Promote Blood Circulation. When Used In Combination With 660NM Red Light, It Can Enhance The Red Light To Stimulate The Production Of Collagen And Elastin In The Dermis, Thus Repairing The Fine Lines Of The Skin. Wrinkles, As Well  As Tightening Loose Skin.